Information About and For Exhibitors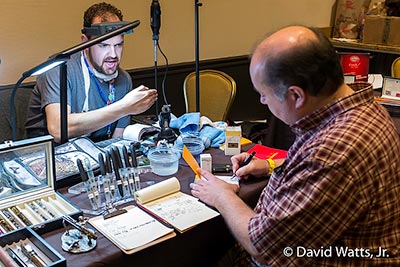 To reserve tables, please see Reserving Tables below.
Last Year's List of Exhibitors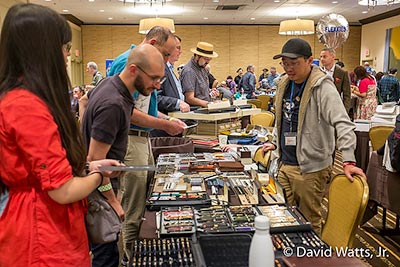 Wallace Andrews
Appelboom (formerly Bromfield Pen Shop)
Yigit Bagdas – DAYartSTORE
Jim Baer – Monomoy Pens
Andy Beliveau
Richard Binder
James Bornheimer
Alan Cohen – Crazy Al's Emporium
John Corwin— Flexible Nib Pens
Myk Daigle – MaD Mercantile
Paul Erano
Sid Falthzik
Federalist Pens and Paper
Pier Gustafson
Gregory Hardy — Hardy Penwrights

Tim Holl
Scott Jones
Kenro/Esterbrook
Jeffrey Krasner
Neil Lander
Joshua Lax – J. J. Lax Pen Company
Pierre Miller — Desiderata Pen Company
David Nishimura
Lindsey Rand
Bob Slate Stationer
Jonathan Steinberg
Jonathan Veley — Legendary Pencil Company
Reserving Tables
All tables are standard 72"×30" (6-foot) banquet tables and are priced at $175.00 per table.
We are currently in the process of contacting exhibitors who have been with us in the past, to give them the opportunity to secure the tables they've had before. As soon as we have done this, we will make available any remaining tables, and there will be instructions for registration on this page. Please be patient.
We have a waiting list in case someone releases a table, and we are now taking names to go on the list for 2023.
There is a separate exhibitors' entrance to the ballroom. You will not have to cart your displays and goods through the hotel lobby, and you will not need to run interference at the visitors' entrance while you are setting up or packing.
---
Copyright © 2023 Commonwealth Pen Show