Information About and For Exhibitors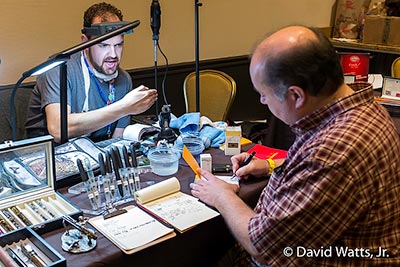 We are sorry, but all tables are sold out. We cannot accept further table reservations for this year's show.
List of Exhibitors for 2022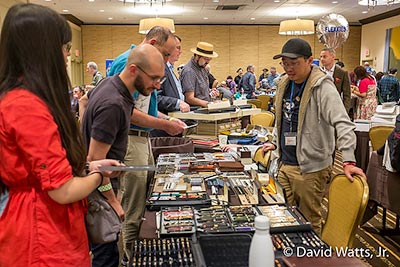 Wallace Andrews
Appelboom (formerly Bromfield Pen Shop)
Yigit Bagdas – DAYartSTORE
Jim Baer – Monomoy Pens
Andy Beliveau
Richard Binder
James Bornheimer
Alan Cohen – Crazy Al's Emporium
John Corwin— Flexible Nib Pens
Myk Daigle – MaD Mercantile
Paul Erano
Sid Falthzik
Federalist Pens and Paper
Pier Gustafson
Gregory Hardy — Hardy Penwrights

Tim Holl
Scott Jones
Kenro/Esterbrook
Jeffrey Krasner
Neil Lander
Joshua Lax – J. J. Lax Pen Company
Pierre Miller — Desiderata Pen Company
David Nishimura
Lindsey Rand
Bob Slate Stationer
Jonathan Steinberg
Jonathan Veley — Legendary Pencil Company
Reserving Tables
All tables are standard 72"×30" (6-foot) banquet tables and are priced at $175.00 per table.
Please note that all tables are sold out for 2022.
There is a separate exhibitors' entrance to the ballroom. You will not have to cart your displays and goods through the hotel lobby, and you will not need to run interference at the visitors' entrance while you are setting up or packing.
---
Copyright © 2022 Commonwealth Pen Show